Application Hosting
Hench Engineering, Inc. has been hosting applications on our servers for the last 10 years.
Leaving the day-to-day work of server maintenance to us allows you to concentrate on your business, not your network. We provide a seamless server/desktop environment for your staff using proven Citrix XenApp Server and Secure Gateway technology.
Web-based network access and application launching means your programs and files are available any where, any time, with simply a web connected laptop, or even your phone.
Virtually any application can be remote hosted, and with our speedy Dell servers running VMware, it normally runs faster than on the local desktop. We can host anything from simple office suites to CAD applications.
We've had clients completely eliminate their on-site IT staff with a turn-key application hosting solution from Hench Engineering, Inc.
Contact us for a quote on how we can reduce your networking costs by hosting your applications here at Hench Engineering, Inc.
Hench Engineering, Inc. uses the following products in our application hosting environment:


Application Hosting 101
Your current network structure probably looks something like this, with your users and servers connected together and then to the internet: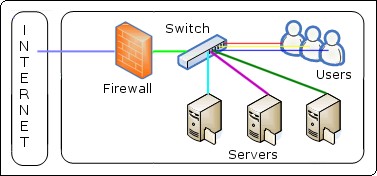 With application hosting, your network structure is reduced to a simple switch and firewall between your users and the internet:

You then connect to the Hench Engineering, Inc. remote application servers via the internet - from anywhere!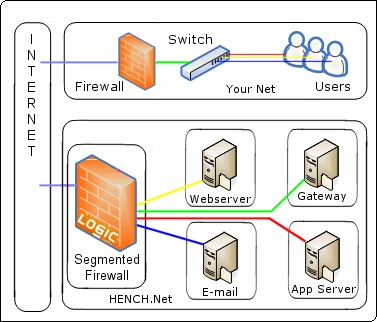 Remote application hosting is incredibly secure, simply log in through the gateway and access your applications and data with full 128 bit encryption. Additionally, the application server only sends an initial screen shot, after which only changes to the screen are sent. Since all the processing happens on the server, there is never any data sent out. Since all data is stored on the application hosting server, you can go from desktop to laptop to phone without ever having to synchronize any data.